Big B meets ailing Dilip Kumar in hospital
Sarika Sharma
,
Sarika Sharma
: New Delhi, Tue Sep 24 2013, 13:40 hrs



Amitabh Bachchan with Dilip Kumar and Saira Banu in the hospital. (Twitter)
Bollywood megastar Amitabh Bachchabn met ailing thespian Dilip Kumar on Monday (September 23), who is undergoing treatment at a hospital in Mumbai.
Tragedy King Dilip Kumar, who was admitted in a suburban hospital following a heart attack last week, is recuperating in the hospital and is likely to be discharged soon as he is responding well to treatment.
"Went and visited Dilip Saheb, Yusuf Khan, Dilip Kumar my icon inspiration, who lies in hospital.. He is well and recovers!," tweeted Amitabh Bachchan, who has worked with Dilip Kumar in 'Shakti.'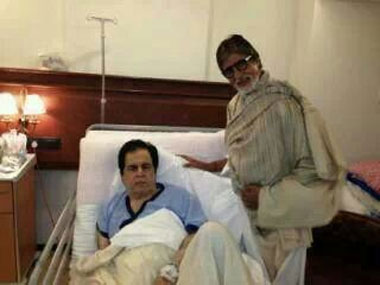 Dilip Kumar's relatives had also posted a video of the veteran actor from his hospital bed showing his wife Saira Banu feeding him.
He further posted on his bog: "I had never met him so... In bed, in hospital, ailing and troubled and harassed by all the medical fuss around him... Dilip Kumar!! the great thespian, the wonder of Indian cinema, the ultimate performer in my eyes, lying there in Lilavati Hospital, recovering from a recent mild heart attack."
Amitabh Bachchan said that his "Shakti" co-star looked happy to see him.
"He seemed cheerful... At least when he saw me... Saira ji warned me that he had been quite irritable and non cooperative throughout the day, and so to excuse any kind of untoward behaviour that he may dole out to me... But he was gracious and kind... Repeatedly he kept saying 'wah' 'wah' and then slipping into repetitions of 'Allah'," Bachchan added.
Amitabh Bachchan also prayed for a speedy recovery of the legendary actor.
"There is talk to bring him back home soon... That bodes well for him and his family... May he recover fully as soon as possible... Our prayers and 'duas' for him," Amitabh Bachchan added.
... contd.
Please read our

terms of use

before posting comments
TERMS OF USE: The views expressed in comments published on
indianexpress.com
are those of the comment writer's alone. They do not represent the views or opinions of The Indian Express Group or its staff. Comments are automatically posted live; however,
indianexpress.com
reserves the right to take it down at any time. We also reserve the right not to publish comments that are abusive, obscene, inflammatory, derogatory or defamatory.