Bigg Boss 7: Ajaz named Dedh Shana, Tanishaa, Gauahar's funny side
Entertainment News Service
: New Delhi, Sun Dec 08 2013, 18:26 hrs



Madhuri Dixit and Huma Qureshi joined Bigg Boss host Salman Khan on the Weekend Ka Wow episode.
As another week comes to a close, 'Dedh Ishqiya' actors Madhuri Dixit and Huma Qureshi joined Bigg Boss host Salman Khan on the Weekend Ka Wow episode.
In pics: Salman, Madhuri recreate 'Hum Aapke Hain Koun..!' days
While Madhuri Dixit danced with Salman Khan on stage to their superhit song 'Didi Tera Devar' from 'Hum Aapke Hai Koun..!', Huma Qureshi joined the contestants inside the house for some fun and games.'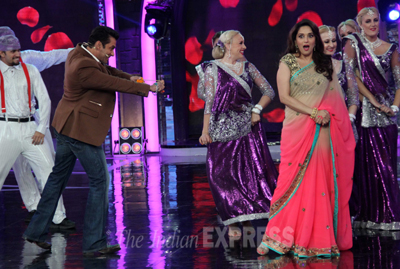 A loyal Bigg Boss fan, Huma Queshi was elated to meet the contestants and sit among them while Salman Khan and Madhuri Dixit interacted with the contestants via television.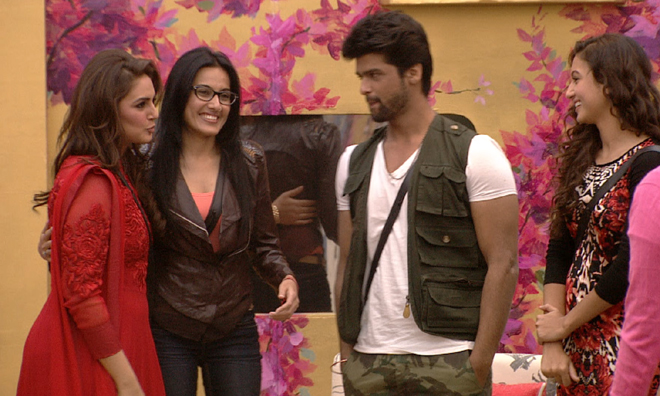 Salman then introduced a game to the contestants which surprised Madhuri Dixit above everyone else. The male contestants inside the house – Armaan, Andy, Sangram, Ajaz and Kushal are given the task to make Madhuri Dixit blush!
While Armaan, Andy and Sangram choose to sing in their own unique style, Ajaz and Kushal deliver some heart-warming speeches making Madhuri feel special. At the end of the day, Madhuri finds it difficult to pick the best of them all chose Kushal and Andy as joint winners.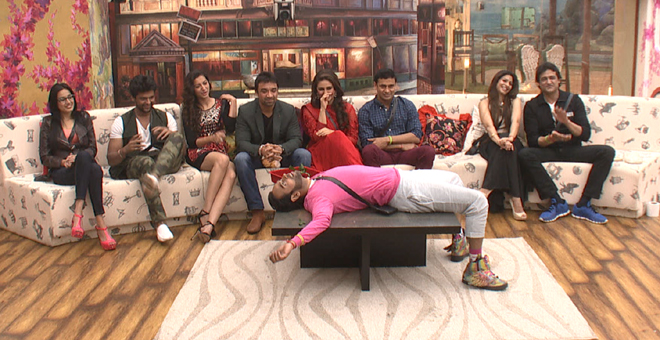 With Dedh Ishqiya soon becoming the topic of discussion, another round of games is introduced. This time, Huma asks the contestants to pick the Dedh-Shana contestant currently living inside the house. Initially, all the contestants name Andy, but, soon after, the balance veers because not only does Ajaz nominate himself, but the contestants, who had previously voted for Andy, change their stands.
the games were over, the real fun begins as Tanishaa and Gauahar come forth to perform a hilarious take on the fight that had taken place between Armaan and Kushal during the previous week's luxury budget task. The act has everyone, especially Armaan and Salman, in splits. On this happy note, Madhuri and Huma bid adieu to Salman Khan and the contestants.
... contd.
Please read our

terms of use

before posting comments
TERMS OF USE: The views, opinions and comments posted are your, and are not endorsed by this website. You shall be solely responsible for the comment posted here. The website reserves the right to delete, reject, or otherwise remove any views, opinions and comments posted or part thereof. You shall ensure that the comment is not inflammatory, abusive, derogatory, defamatory &/or obscene, or contain pornographic matter and/or does not constitute hate mail, or violate privacy of any person (s) or breach confidentiality or otherwise is illegal, immoral or contrary to public policy. Nor should it contain anything infringing copyright &/or intellectual property rights of any person(s).