Bigg Boss 7: Kushal angry with Gauahar for mingling with Armaan
Entertainment News Service
: New Delhi, Tue Dec 03 2013, 16:37 hrs



Armaan and Kushal have an argument over the quality of soft toys that Sofia's team has been producing.
Every week, Bigg Boss is fuelled with fights and disputes and this week seems to be no different.
Early in the morning Gauahar and Kushal are seen talking to each other about avoiding Armaan and Tanishaaa. Gauahar and Kushal have had no qualms in admitting that they hate the fact that Armaan is back in the house after getting evicted over the weekend.
They are looking at his re-entry as a challenge because it has reduced their chances of winning the show. However, later in the day, Kushal Tandon is disappointed to see that Gauahar is still mingling with Armaan and giving him a lot of respect.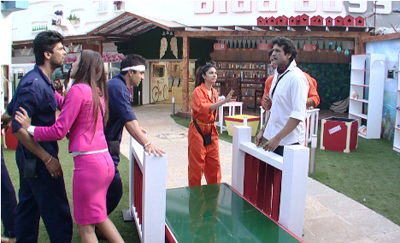 As has become norm, during the day, the luxury budget task for the day is announced. Aptly named, Bigg Boss Ki Toy Factory, the task brings to the forefront major differences that exist amongst the Bigg Boss contestants.
The task requires contestants to be divided into two teams and collect raw materials from the factory machine to manufacture toys. As captain, Gauahar is assigned the position of the Managing Director of the factory – meaning that she will not be involved in the production process.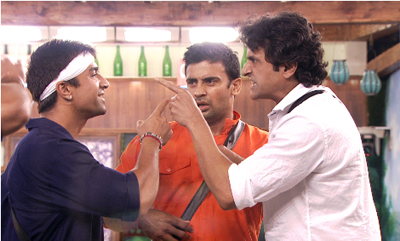 Team A comprises of Armaan, Tanishaa, Sangram and Andy while Team B includes Sofia, Kushal, Ajaz and Kamya. Armaan and Sofia are further made the managers of their respective teams to supervise the manufacturing of toys. The contestants find the task to be quite exciting and they move into the Garden Area to carry it out.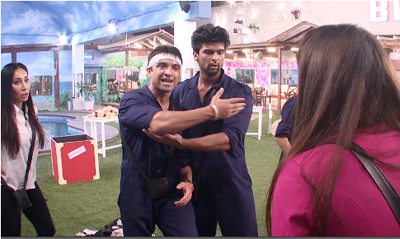 Raw materials roll in through a conveyor belt and Kushal and Armaan are seen arguing over the picking for raw materials for their respective teams. As Managing Director, Gauahar makes a boundary from where the raw materials can be picked. However, Kushal still makes an attempt to cheat thereby enraging Armaan. Kushal not only steals the raw materials, but also gets into an altercation with Armaan. When Gauahar sides with Kushal, Armaan blatantly mentions that she is being partial towards Kushal owing to her relationship with him.
... contd.
Please read our

terms of use

before posting comments
TERMS OF USE: The views, opinions and comments posted are your, and are not endorsed by this website. You shall be solely responsible for the comment posted here. The website reserves the right to delete, reject, or otherwise remove any views, opinions and comments posted or part thereof. You shall ensure that the comment is not inflammatory, abusive, derogatory, defamatory &/or obscene, or contain pornographic matter and/or does not constitute hate mail, or violate privacy of any person (s) or breach confidentiality or otherwise is illegal, immoral or contrary to public policy. Nor should it contain anything infringing copyright &/or intellectual property rights of any person(s).