Star babies Azad, Vivaan and Aaradhya steal the spotlight
Priyanka Sinha Jha
: Fri Dec 06 2013, 13:04 hrs



Bollywood's infant brigade is fast gaining prominence in the celebrity stakes.
A glance through the newspapers is a clear indication of the fact that a whole new generation of celebrities is waiting in the wings to take centrestage in celeb glossies.
For those that came in late, Bollywood's infant brigade is fast gaining prominence in the celebrity stakes.
The early excitement of being the first to get hold of these prized photos having subsided, the focus has now shifted to finding them suitable tags.
Aaradhya for instance is considered the sharp dresser courtesy her animal print slacks (quite along the lines of Tom Cruise's daughter Suri), Shilpa Shetty's son Vivaan is earning himself the tag of an amiable baby while baby Azad is reportedly showing signs of being a nimble dancer what with him matching steps with dad Aamir who has been tap dancing for Dhoom 3.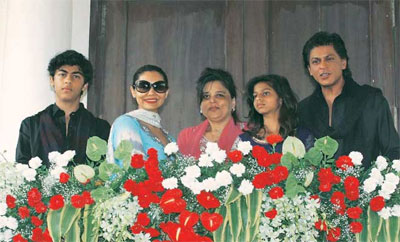 Though celeb babies max the 'aww' factor, children snapping includes all age groups.
Recently, snaps of Aamir Khan's daughter Ira in a sari on her way to a party at her father's residence caught everyone's attention in a big way. It was quite the "Pippa" moment.
Superstar lives may be great fodder for the media at large but in present times when instant soundbytes and sneaky snapshots constitute a significant part of celebrity chronicles, the breathless coverage of everything associated with them is par for the course.
The most recent addition to the bucket list is coverage of star kids which for most part was an uncharted territory with random photos of celebrity kids accompanied by their famous parents on shoots or at home.
It helps that unlike several other contentious issues, children make for a pleasant subject that proud celebrity parents are unafraid to dwell on.
... contd.
Please read our

terms of use

before posting comments
TERMS OF USE: The views, opinions and comments posted are your, and are not endorsed by this website. You shall be solely responsible for the comment posted here. The website reserves the right to delete, reject, or otherwise remove any views, opinions and comments posted or part thereof. You shall ensure that the comment is not inflammatory, abusive, derogatory, defamatory &/or obscene, or contain pornographic matter and/or does not constitute hate mail, or violate privacy of any person (s) or breach confidentiality or otherwise is illegal, immoral or contrary to public policy. Nor should it contain anything infringing copyright &/or intellectual property rights of any person(s).