Buy-and-hold commodity play
Sanjay Kr Singh
: Mon Dec 22 2008, 02:10 hrs



Iron-ore demand has fallen due to the global slowdown, and prices have corrected sharply. Sesa Goa's story is negative today, but long-term investors could bet on the stock's cyclical nature
Sesa Goa is into mining and export of iron ore. Almost 66 per cent of its ore is exported to a single country, China. Thus, this stock is first a commodity play, and it is also dependent on the performance of the Chinese economy. Because of the global economic slowdown, steel production has fallen, and hence also the demand for iron ore. But the world will not always be in slowdown. After a couple of years, economies will turn around, especially the Chinese economy (which in any case is expected to retain a 9 per cent GDP growth rate this year). When that happens, steel demand, and hence that of iron ore, will pick up again. Long-term investors, by buying at today's low prices and holding on to the stock for at least three years, could profit from the cyclical nature of commodities.
Attractive valuation
At a PE of 2.61, Sesa Goa's valuation is quite low. It is much lower than the stock's own historic PE level (see graph). It is also much lower than that of NMDC, another listed company in the iron-ore mining space, which is trading at a much higher PE of 13.52.
Bleak near-term prospects
For the next two years, Sesa Goa's prospects appear bleak. Due to the recession in the US, Euro area and Japan, and slowdown in most other economies, the global demand for steel is on the decline, as infrastructure and real estate projects, car manufacturing all slow down.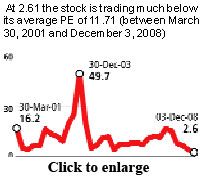 Falling volumes. In particular, demand is expected to slow down in China and India, two of the world's fastest-growing economies, which together account for more than half the demand for metals, and most of the incremental demand. China, which since 2003 has grown by 10 per cent or above, is expected to grow at around 9 per cent this year and 6.5 per cent the year after. India, which has grown at the rate of 7.5-9.4 per cent since 2003, is expected to grow at around 7 per cent this year and 5.5 per cent the year after.
... contd.
Please read our

terms of use

before posting comments
TERMS OF USE: The views, opinions and comments posted are your, and are not endorsed by this website. You shall be solely responsible for the comment posted here. The website reserves the right to delete, reject, or otherwise remove any views, opinions and comments posted or part thereof. You shall ensure that the comment is not inflammatory, abusive, derogatory, defamatory &/or obscene, or contain pornographic matter and/or does not constitute hate mail, or violate privacy of any person (s) or breach confidentiality or otherwise is illegal, immoral or contrary to public policy. Nor should it contain anything infringing copyright &/or intellectual property rights of any person(s).