CCI maiden meet today to fast track major infra projects facing hurdles
Subhash Narayan
,
Ashish Sinha
,
Subhash Narayan
,
Ashish Sinha
: New Delhi, Wed Jan 30 2013, 06:31 hrs



Whatever little help the Reserve Bank of India's quarter-point reduction in the policy rate gives in boosting investment will be reinforced as the government prepares to clear the logjam over scores of power, steel and oil sector projects at the maiden meeting of the Cabinet Committee on Investment (CCI) on Wednesday. According to official sources, the panel, led by Prime Minister Manmohan Singh, which enjoys supremacy over individual ministries, is set to give one-stop approvals for many of the 25 big power projects stuck for want of environmental clearances/fuel linkage at its first meeting. These include projects of Adani Power, Tata Power, the Jaypee Group, DB Power and Indiabulls, among others. The 25 held-up power projects have a combined bank exposure of over R1,25,000 crore. Major headway is also expected in addressing the issue of the "no-go" tag assigned by the defence ministry to 14 offshore oil and gas blocks including the Reliance Industries-BP combine's KG-D6 field and the gas discovery area NEC-25.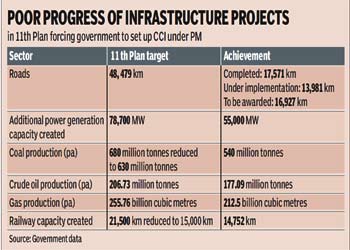 In all, the ministry had withdrawn/withheld clearances for 46 oil and gas blocks. Together, an investment of $13.5 billion is envisaged in these blocks by a host of companies such as Reliance, ONGC, BHP Billiton and Cairn Energy.
A mega steel plant in the private sector that has attained financial closure could also be taken up for discussion by the committee, sources said.
As for individual cases, the CCI may look at the five of Adani Power's held-up projects in which State Bank of India (SBI) is said to have a large exposure. Projects of Jaypee Power, DB Power and Indiabulls also figure in the list of projects before the CCI, a senior official said.
Sources said among the five projects of Adani Power — the 4,620 MW Mundra power project, 3,300 MW Tiroda project, the Gondia project in Maharashtra and the 1,320 MW Kawai project in Rajasthan — may get an early look as SBI has a combined exposure of R30,000 crore in these projects.
... contd.
Please read our

terms of use

before posting comments
TERMS OF USE: The views expressed in comments published on
indianexpress.com
are those of the comment writer's alone. They do not represent the views or opinions of The Indian Express Group or its staff. Comments are automatically posted live; however,
indianexpress.com
reserves the right to take it down at any time. We also reserve the right not to publish comments that are abusive, obscene, inflammatory, derogatory or defamatory.