Deconstructing the yellow metalís sheen
Saikat Neogi
,
Saikat Neogi
: Wed Nov 28 2012, 01:59 hrs



With soaring gold imports and a widening current account deficit, RBI is now pushing for the launch of gold-backed instruments to discourage physical investment in gold. Here's how such a move might affect gold demand, supply and prices
Why does RBI want gold holding in demat form?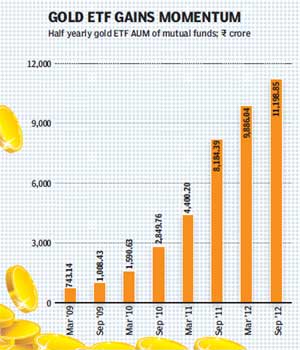 In order to reduce the quantum of physical holdings in the country, the deputy governor of the Reserve Bank of India, Subir Gokarn, has proposed the idea of holding the metal in demat format like any other financial product. At the recently-held annual Bancon in Pune, the deputy governor said that the central bank is considering alternative channels for investment like a modified gold-backed scheme, gold-linked accounts, gold accumulation plans and gold pension plans. These schemes, if implemented, would discourage physical investment in gold. He also said that a working group headed by KUB Rao of RBI will shortly be coming out with its report on the ways to deal with the problem arising from high gold imports on the balance of payments.
How would RBI's proposed gold-backed instruments work?
Though the details of the gold-backed instruments will come out in the RBI report, according to Subir Gokarn, the gold accumulation plan will be similar to the systematic investment plans of mutual funds, in which the plan will buy a small quantity of gold at regular interval without any physical delivery. The gold-linked accounts could be non-interest bearing accounts, where the gold would be purchased and hedged abroad and give an account holder exposure to the global gold market without any physical delivery. Similarly, the gold pension plan would be similar to the reverse mortgage scheme of properties that banks offer.
Why is the current account deficit rising?
Rising gold imports have pushed up the current account deficit to a historic high of $72 billion or 4.2% of GDP in 2011-12. Of that, gold accounted for 70% of the current account deficit. For 2012-13, the Economic Advisory Council to the Prime Minister had projected the current account deficit at $67.1 billion, or 3.6% of the GDP and that can be achieved if gold imports are reduced. To curb the import of gold, the government last year had increased the import duty of the metal. The import duty on gold has been fixed at 2% of the value instead of the earlier R300 per 10 grams.
... contd.
Please read our

terms of use

before posting comments
TERMS OF USE: The views expressed in comments published on
indianexpress.com
are those of the comment writer's alone. They do not represent the views or opinions of The Indian Express Group or its staff. Comments are automatically posted live; however,
indianexpress.com
reserves the right to take it down at any time. We also reserve the right not to publish comments that are abusive, obscene, inflammatory, derogatory or defamatory.