Export engines to drive Q2 results, but earnings downgrades loom large
Domestic demand-driven sectors and heavily indebted companies may sink further in terms of performance. (Thinkstock)
The second quarter earnings season could throw up sharply divergent trends in earnings. While export-driven sectors are seen benefitting from the depreciation in the rupee, domestic demand-driven sectors and heavily indebted companies may sink further in terms of performance.
While the aggregate financial performance of India Inc during the quarter ending September 2013 may be helped by export-driven sectors, earnings downgrades for FY14 and maybe even FY15 are more than likely, say analysts.
For IT, healthcare and metal companies, earnings may be supported by a year-on-year (y-o-y) fall of 12.5% in the rupee along with a pick-up in global growth, say analysts.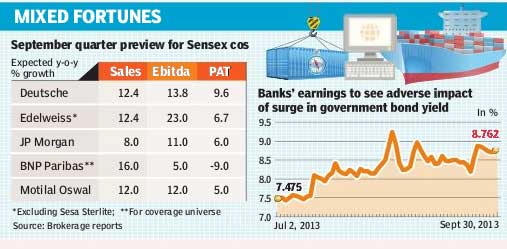 "Global recovery and rupee depreciation are set to be the strong over-riding catalysts driving a rebound in revenues," said Deutsche Bank in an earnings preview report. The foreign brokerage expects y-o-y top line growth of 12.4% for Sensex companies and 16.9% for its coverage universe of 105 companies for the September quarter.
Edelweiss and Motilal Oswal Securities also expect the September quarter revenue growth of Sensex companies near 12%, compared with last year, while JPMorgan is looking at a moderate rise of 8%.
Among bluechips, recent stock outperformers like Sun Pharma, Tata Consultancy Services (TCS) and Tata Motors are seen driving Sensex earnings.
Analysts appear particularity upbeat over Tata Motors, which realises nearly 75% of its consolidated revenues from its global operations, even as the auto major's domestic commercial vehicle business is expected to slowdown further.
Analysts expect Tata Motors to report strong profits on the back of a 21-25% sales growth based on strong performance at the Jaguar Land Rover (JLR) unit.
For FMCG companies, while quarterly earnings are expected to be steady, the Street is expecting volume growth to trend lower, especially in the discretionary categories. While Tata Global beverages and Marico may post strong profit growth, volume growth at Hindustan Unilever and ITC is seen softening further.
... contd.
Please read our

terms of use

before posting comments
TERMS OF USE: The views expressed in comments published on
indianexpress.com
are those of the comment writer's alone. They do not represent the views or opinions of The Indian Express Group or its staff. Comments are automatically posted live; however,
indianexpress.com
reserves the right to take it down at any time. We also reserve the right not to publish comments that are abusive, obscene, inflammatory, derogatory or defamatory.