SC says gay sex punishable, withdraws legal protection to LGBT community
Utkarsh Anand
,
Utkarsh Anand
: New Delhi, Thu Dec 12 2013, 06:17 hrs



SC set aside Delhi HC's 2009 judgment decriminalising gay sex between two consenting adults. (AP)
Withdrawing the legal protection to what it called "so-called rights" from a "minuscule fraction of the country's population" comprising lesbians, gays, bisexuals or transgenders (LGBT), the Supreme Court on Wednesday ruled that Section 377 in the Indian Penal Code will continue making gay sex — "irrespective of age and consent" — an offence punishable with a sentence up to life term.
The court held that Section 377 did "not suffer from any constitutional infirmity" and that it was for Parliament "to consider the desirability and propriety of deleting Section 377 from the statute book or amend it, as per the suggestion made by the Attorney General. The AG had in March 2012 told the court that a proviso would have to be added in Section 377 to exclude sexual activity between the consenting adults in private."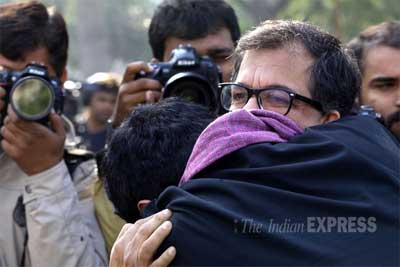 A bench of Justice G S Singhvi and Justice S J Mukhopadhaya set aside what it called the "legally unsustainable" Delhi High Court verdict of 2009 that had decriminalised LGBT community after holding that Section 377, insofar it criminalises consensual sexual acts of adults in private, violated the principles of equality and non-discrimination contained in Articles 14, 15 and 21 of the Constitution.
Article 14 guarantees equality before the law, Article 15 prohibits discrimination on grounds of religion, race, caste, sex or place of birth, and Article 21 guarantees protection of life and personal liberty.
There was hushed silence in the packed courtroom as Justice Singhvi began reading out the concluding part of the judgment — almost 21 months after the bench reserved it. The silence was soon replaced by sobs from the members of the LGBT community who had gathered holding hands in a show of affection and solidarity — which soon turned into anguish and anger.
... contd.
Please read our

terms of use

before posting comments
TERMS OF USE: The views expressed in comments published on
indianexpress.com
are those of the comment writer's alone. They do not represent the views or opinions of The Indian Express Group or its staff. Comments are automatically posted live; however,
indianexpress.com
reserves the right to take it down at any time. We also reserve the right not to publish comments that are abusive, obscene, inflammatory, derogatory or defamatory.