Gay sex verdict: To undo SC ruling, govt says it will change law, file review plea
Maneesh Chhibber
,
Maneesh Chhibber
: New Delhi, Fri Dec 13 2013, 10:54 hrs



Government said on Thursday that "urgent steps" would be taken to overturn the SC judgment on same-gender sex. (IE Photo)
A day after the Supreme Court ruled that Section 377 of the Indian Penal Code would continue to make same-gender sex a crime punishable with a sentence of up to life in prison, the government said Thursday that "urgent steps" would be taken to overturn the SC judgment.
Sources said the government is awaiting Attorney General Goolam E Vahanvati's return to New Delhi later this week and, after he gives his opinion, a review or curative petition is likely to be filed in the Supreme Court .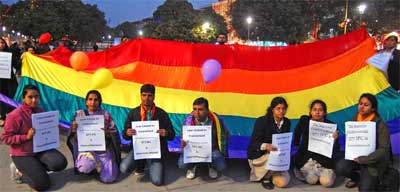 "We will have to change the law. If the Supreme Court has upheld that law, then we will certainly have to take firm steps. Change has to be made fast and any delay cannot take place. We will use all means available to make changes at the earliest," said Union Law Minister Kapil Sibal.
Asked to spell out the options available with the government, Sibal said, "One opinion could be to bring it to parliament at the earliest. The other opinion could be to approach the Supreme Court or take any other route. We will adopt the approach which will give us quick results."
During his arguments before the Supreme Court Bench headed by Justice G S Singhvi, Vahanvati had held that "the Government of India does not find any legal error in the judgment of the High Court and accepts the correctness of the same. This is also clear from the fact that it has not filed any appeal against the judgment of the High Court."
Stating that the HC had "read down" Section 377, Vahanvati had told the court that while Section 377 as such would remain, a proviso would have to be added to it to ensure that the same wouldn't apply to "any sexual activity between two consenting adults in private".
... contd.
Please read our

terms of use

before posting comments
TERMS OF USE: The views expressed in comments published on
indianexpress.com
are those of the comment writer's alone. They do not represent the views or opinions of The Indian Express Group or its staff. Comments are automatically posted live; however,
indianexpress.com
reserves the right to take it down at any time. We also reserve the right not to publish comments that are abusive, obscene, inflammatory, derogatory or defamatory.