Gold hunt
With the festive season upon us, demand for the yellow metal will rise again. So, should you go for gold MFs or buy jewellery?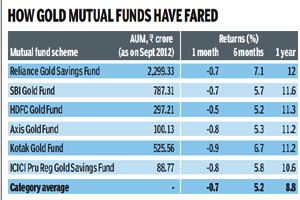 For most Indians, Dhanteras is the most auspicious day to buy gold and, with the price of the metal falling over the past few weeks, it will be a bonanza for buyers. Apart from buying the metal in physical form, one can invest in gold exchange-traded funds of mutual fund companies. By investing in the paper form, one can eliminate issues related to purity, insurance, storage and even reselling.
An investor can also go for e-gold available on the NSEL and MCX exchanges or choose eight- or 10-gram gold coins. The advantage of e-gold is ease of storage in the demat form. Also, it is highly liquid and comes with quality assurance.
As the price of the yellow metal has risen significantly in the last two years, one can even opt for lower karat gold, which is relatively cheaper than pure 24-karat or 22-karat. For example, 18-karat gold contains 18 parts gold and six parts of another metal or metals, making it 75% gold.
Similarly, 14-karat gold contains 14 parts gold and 10 parts of another metal or metals, making it 58.3% gold. Ten-karat gold contains 10 parts gold and 14 parts of another metal or metals, making it 41.7% gold. Traditionally, Indians have preferred 18- and 22-karat gold. Also, 18- and 22-karat jewellery would need to be polished more often to retain the shine. Analysts say if one buys lower karat gold, it should be purchased from a reputed jeweller and hallmarked.
Gold prices have been falling in the past two weeks because of the dollar strengthening. A Barclays report says while demand is still supported in India by a softer rupee, bar premiums have improved with premiums stabilising in Singapore and reaching a two-month high in Hong Kong. "Demand has by no means been aggressive leading up to the key festival of Diwali, but prices falling to their lowest since August should support interest," says the report.
... contd.
Please read our

terms of use

before posting comments
TERMS OF USE: The views expressed in comments published on
indianexpress.com
are those of the comment writer's alone. They do not represent the views or opinions of The Indian Express Group or its staff. Comments are automatically posted live; however,
indianexpress.com
reserves the right to take it down at any time. We also reserve the right not to publish comments that are abusive, obscene, inflammatory, derogatory or defamatory.