Honda drives into Maruti Suzuki, Hyundai arena with diesel, mass market models
Roudra Bhattacharya
: New Delhi, Thu Dec 19 2013, 15:04 hrs



Honda is launching the Brio platform-based Mobilio MPV in April-May.
WITH Honda planning challengers to take on Maruti Suzuki and Hyundai in the mini, compact hatchbacks, entry sedans and compact utility vehicles spaces, these segments will see a three-way battle for the first time. These categories are significant since they together account for 75% of the volumes of the country's 27 lakh units passenger vehicle (PV) market.
With a target to take its market share to over 10%, Honda's aggressive India plans include four new launches by end-2015, with another scheduled for 2016-17, multiple sources said. What's key for Honda is that all new models will now be fitted with diesel engines, indicating the shift in buyers' preferences. Honda today commands 5% of the car market while Maruti has the lion's share of 40% with 8 mass segment models and Hyundai a little over 15% with 5 models on offer.
Jnaneswar Sen, senior VP for sales & marketing at Honda Cars India told FE his firm is working to expand its sales network to match the product plans. "To effectively compete with established players in mass segments, we need to be present at many more locations than we are in today. There is a lot of work going on internally and we will announce our network expansion plans soon," Sen said.
Added Gaurav Vangaal, automotive analyst for light vehicle forecasting at IHS, "The success of the Amaze has drawn Honda's attention to the Indian market, and the planned portfolio makes them serious contender. Even a small share initially in the mass segment can help in a very competitive market".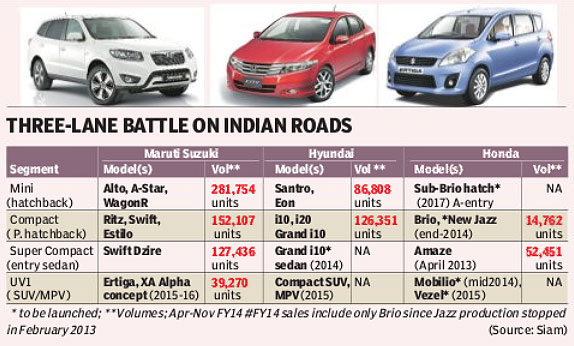 In 2014, Honda will launch the new City in January, followed by the Brio platform-based 'Mobilio' MPV in April-May, and then the new Jazz by the end of the year. In 2015, this is expected to be followed by the 'Vezel' compact SUV that has been launched in Japan this month. Later in 2017, the company is also planning an entry-level small car below the current entry model Brio that will compete with the country's top-selling car Maruti Alto 800, apart from Hyundai's Eon and Datsun's third model planned for India. Honda is believed to be considering setting up a third facility to cater to the high volume targets for this small car ó as a comparison, the Alto sells over 20,000 units a month, while the Eon sells about 8,000-9,000 a month.
... contd.
Please read our

terms of use

before posting comments
TERMS OF USE: The views, opinions and comments posted are your, and are not endorsed by this website. You shall be solely responsible for the comment posted here. The website reserves the right to delete, reject, or otherwise remove any views, opinions and comments posted or part thereof. You shall ensure that the comment is not inflammatory, abusive, derogatory, defamatory &/or obscene, or contain pornographic matter and/or does not constitute hate mail, or violate privacy of any person (s) or breach confidentiality or otherwise is illegal, immoral or contrary to public policy. Nor should it contain anything infringing copyright &/or intellectual property rights of any person(s).