India's Mars mission launched, rocket places spacecraft in Earth's orbit
India on Tuesday launched its first spacecraft bound for Mars. (Photo courtesy: ISRO)
India on Tuesday embarked on its maiden Mars odyssey with its polar rocket carrying Mars Orbiter Mission (MOM) successfully lifting off from the Satish Dhawan Space Centre here in its first-ever inter-planetary expedition in a bid to join a select band of nations.
The textbook lift-off of ISRO's workhorse launch vehicle PSLV C25 at 2.38 PM from the spaceport here, about 100 km from Chennai, was witnessed among others by Minister of State in PMO, V Narayanasamy, US Ambassador to India Nancy Powell,Indian Space Research Organisationchairman K Radhakrishnan and a host of other officials.
The Mars orbiter spacecraft was separated from Polar rocket and successfully put into Earth's orbit. PSLV C25 placed Mars Orbiter Mission precisely in elliptical orbit about 44 minutes after the lift off.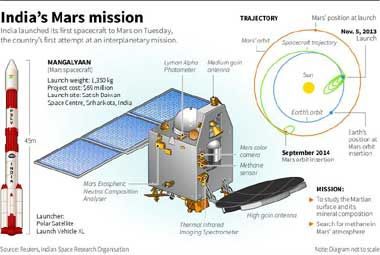 The XL version of PSLV C 25 had carried Chandrayaan 1, the country's maiden moon mission, in 2008.
After going around Earth for 20-25 days in an elliptical orbit (perigee of 250 km and apogee of 23,500 km), the Rs 450 crore orbiterwould begin a nine-month long voyage to Mars around 12.42 AM on December 1.
The 44.4-metre tall trusted workhorse of ISRO was launched from Sriharikota. With the success of this launch, the next major test is on November 30, when the spacecraft begins its journey to Mars. And then in September 2014, when it will inject the Mars orbiter into the Mars orbit.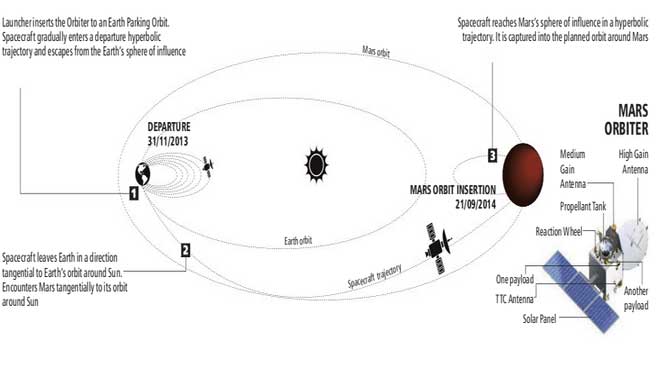 It is expected to reach the red planet's orbit by September 24, 2014 and go around in an elliptical orbit (periapsis of 366 km and apo-apsis of 80,000 km).
... contd.
Please read our

terms of use

before posting comments
TERMS OF USE: The views expressed in comments published on
indianexpress.com
are those of the comment writer's alone. They do not represent the views or opinions of The Indian Express Group or its staff. Comments are automatically posted live; however,
indianexpress.com
reserves the right to take it down at any time. We also reserve the right not to publish comments that are abusive, obscene, inflammatory, derogatory or defamatory.