Gujarat polls: Itís Catch-22 for Muslims in the state
Syed Khalique Ahmed
,
Tanvir A Siddiqui
,
Syed Khalique Ahmed
,
Tanvir A Siddiqui
: Ahmedabad, Sat Nov 03 2012, 12:15 hrs



Despite indications that the state BJP is courting them for the first time, the 36.5 lakh Muslim voters in Gujarat are in a Catch-22 situation.
While most of them are wary of voting for BJP for ideological reasons, they are equally disenchanted with the Congress which is allegedly insensitive to their community.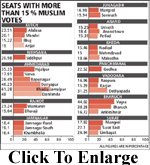 "While Muslims do not like BJP owing to ideological reasons, they find the Congress insensitive to Muslim issues," says Junagadh-based social activist Haji Harun. He cites the instance of Congress-ruled Junagadh Municipal Corporation (JMC), which has seven Muslim corporators.
"Congress came to power in JMC with Muslim support but did not give any important post in the civic body to a Muslim," Harun says.
Interestingly JMC is rumoured to go the Gandhinagar way, whose mayor and two corporators joined the BJP recently.
Vadodara-based social activist Munir Khairuwala cites the instance of the Congress's "silence" when Ahmedabad crime branch picked up the president of its minority women's cell, Noorjehan Diwan, for questioning in connection with in the recent rioting in Karanj. "This develops indifference among the members of the community, many of whom avoid voting".
"Muslims are no doubt feeling uncomfortable with the Congress," says Hamidullah Petiwala from Juhapura, who is an IT professional.
The community, which has remained loyal to the Congress for a long time in Gujarat, now wants its due share. The Gujarat Congress's minority cell is reported to have demanded 14 tickets for Muslims from the areas that have a sizeable population of the minority community.
In 2007 Assembly elections, Congress had given tickets to six Muslim candidates of which five won.
Muslim leaders argue Congress has been giving fewer tickets to Muslims ó there were 15 Muslim MLAs in 1985 ó since growth of communalism in 1980s reduced the prospects of Muslims winning the seats.
... contd.
Please read our

terms of use

before posting comments
TERMS OF USE: The views expressed in comments published on
indianexpress.com
are those of the comment writer's alone. They do not represent the views or opinions of The Indian Express Group or its staff. Comments are automatically posted live; however,
indianexpress.com
reserves the right to take it down at any time. We also reserve the right not to publish comments that are abusive, obscene, inflammatory, derogatory or defamatory.