Magnus Opus: After draw in game 10, Carlsen is crowned World Champion
Raakesh Natraj
,
Raakesh Natraj
: Chennai, Sat Nov 23 2013, 12:08 hrs



Magnus Carlsen, 22, became the youngest World Champion since Garry Kasparov. Viswanathan Anand's six year reign came to an end
Just to play chess." For Magnus Carlsen, this was something that he reached for readily over the last month. What was his match strategy? Just to play chess. How would he describe his playing style? I just play chess. How did you train? Just playing chess. His opening preparation? You know, just play chess.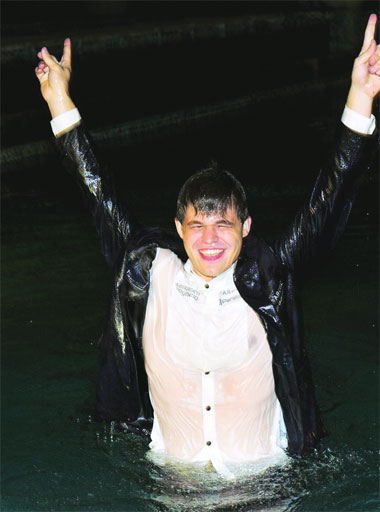 In game ten, Carlsen required just the draw to become the World Champion. Viswanathan Anand, trailing by three points and perhaps having the fight taken out of him after the violent loss in the previous round, was not really expected to bother him too much. Things would proceed in a perfunctory manner and the draw would be signed after an hour.
I know India and Anand's fans are mourning, but this is also a time to celebrate him as a great champion. He lost but he is not dead!

— Garry Kasparov (@Kasparov63) November 22, 2013
Carlsen opened with the king pawn and Anand went for the Sicilian for the first time in the match. The Indian had stayed away from the attacking option with black earlier in game eight, saying there were enough dry lines available despite the Sicilian's reputation for sharpness.
Youngest World Chess Champion: Garry Kasparov in 1985 was 22 years, 6 months, 28 days Magnus Carlsen 2nd youngest at 22y, 11m, 25d

— Mohandas Menon (@mohanstatsman) November 22, 2013
The one that the players went for in game 10 seemed one such non-threatening variation. After the players had breezed through the opening, Anand hinted that he may have been ready to repeat moves for the draw that would signal the end of the championship and the title would change hands.
... contd.
ALSO READ
Strike force gets fresh legs
Please read our

terms of use

before posting comments
TERMS OF USE: The views expressed in comments published on
indianexpress.com
are those of the comment writer's alone. They do not represent the views or opinions of The Indian Express Group or its staff. Comments are automatically posted live; however,
indianexpress.com
reserves the right to take it down at any time. We also reserve the right not to publish comments that are abusive, obscene, inflammatory, derogatory or defamatory.