Mahendra Singh Dhoni's charm offensive
Bharat Sundaresan
: Johannesburg, Tue Dec 03 2013, 13:21 hrs



Mahendra Singh Dhoni addressed his first media conference on the team's arrival in Johannesburg on Monday (PTI)
Did you hear what they said? They are going to throw stuff at us at the grounds... so you..." Mahendra Singh Dhoni could hardly even complete the line before bursting out in laughter. Those around him were in splits as well. From logistics manager MA Satish, media manager RN Baba to the person Dhoni's jibe had been directed at -— the Indian team's colossal security officer donning a red t-shirt. Even coach Duncan Fletcher couldn't help but smile.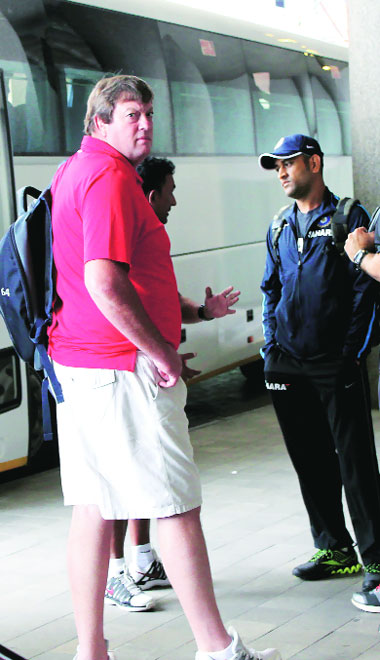 Dhoni was just being, well, Dhoni. Only minutes earlier he had provided another example of his unique prowess at diffusing a tense situation. It's an aspect of his personality that he's renowned for on the field. And like he showed on Monday, even off it.
Earlier in the day, when Dhoni & Co had sauntered through the teeming immigration deck at the OR Tambo International and taken the bus to the plush Sandton Sun Hotel in central Johannesburg, it's unlikely that they would have felt like they were walking into a hostile environment. But the Indian skipper was to find out that that his team should expect a bellicose welcome, not just from the opposition but even from their fans — at least, according to the South African media contingent present to welcome the Dhoni in their shores for the controversy-ridden tour.
"Do you expect any backlash from the public? What would you do if someone threw something onto the field?" was the question to Dhoni at the press conference. "Well, we'll pick it up and give it back. That's what we can do. We have the big guy, our security guy (pointing to the man in the red t-shirt) to handle those situations," he said. There was laughter all around.
... contd.
Please read our

terms of use

before posting comments
TERMS OF USE: The views, opinions and comments posted are your, and are not endorsed by this website. You shall be solely responsible for the comment posted here. The website reserves the right to delete, reject, or otherwise remove any views, opinions and comments posted or part thereof. You shall ensure that the comment is not inflammatory, abusive, derogatory, defamatory &/or obscene, or contain pornographic matter and/or does not constitute hate mail, or violate privacy of any person (s) or breach confidentiality or otherwise is illegal, immoral or contrary to public policy. Nor should it contain anything infringing copyright &/or intellectual property rights of any person(s).