National Interest: Current accountability deficit
Shekhar Gupta
,
Shekhar Gupta
: Wed Oct 30 2013, 14:47 hrs



Behind the plunging rupee is the story of how the UPA-Congress leadership killed mining, exploration, industry.
Last Saturday (August 17), at a dignified little ceremony at 7, Race Course Road, the prime minister released the fourth volume of the history of the Reserve Bank of India. There was, however, a certain apologetic mournfulness in that select gathering of no more than 30 of India's topmost economic and monetary policymakers. It did, at times look so much like a chamber of vanquished generals. It had to, given the state of India's economy, you might say, considering that the group included almost all economic leaders of UPA 2, except Finance Minister P. Chidambaram who was away in his constituency. RBI Governor D. Subbarao's own speech was more in the nature of anticipatory bail: you have to give history time to assess the wisdom of some of the central bank's key actions. But history has little patience, and a long, unforgiving memory. So it is unlikely that it will easily overlook or forget the fact that the Indian growth story collapsed so dramatically under the leadership in the room.
Anticipatory bail, therefore, will not work. What may be more useful, however, is to search for others to blame. And if you were not so panicked, and not so spineless to ever question any policy that could reach the very top of the Congress, you could find at least one party more guilty than all of you. That guilt has to lie with the political leadership of this government and the Congress party, whose second reign will go down in India's history as one that devastated its mining and manufacturing, destroyed its balance of payments, debilitated its industry and deprived lakhs and lakhs of poorest Indians, mostly tribal, of basic employment and livelihood.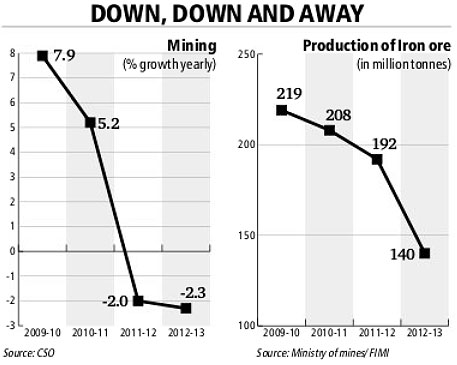 ... contd.
ALSO READ
Degrees of irresponsibility
Please read our

terms of use

before posting comments
TERMS OF USE: The views expressed in comments published on
indianexpress.com
are those of the comment writer's alone. They do not represent the views or opinions of The Indian Express Group or its staff. Comments are automatically posted live; however,
indianexpress.com
reserves the right to take it down at any time. We also reserve the right not to publish comments that are abusive, obscene, inflammatory, derogatory or defamatory.