Navjot Singh Sidhu lost Rs 6 cr over Narendra Modi, alleges wife
Navjeevan Gopal
: Amritsar, Fri Apr 12 2013, 20:30 hrs



A day after the wife of BJP MP from Amritsar, Navjot Singh Sidhu, claimed that BJP had sidelined her husband, Sidhu continued to be inaccessible. (reuters)
A day after the wife of BJP MP from Amritsar, Navjot Singh Sidhu, claimed that BJP had sidelined her husband, Sidhu continued to be inaccessible. BJP Chief Parliamentary Secretary Navjot Kaur Sidhu, however, on Thursday came up with figures to drive home the point that her husband had been in politics with a mission, but has been sidelined by the party.
"As against a (monthly) salary of Rs 70,000 (as MP), Sidhu takes Rs 8 lakh for a half-an-hour talk. By pulling out early from the Big Boss for the election campaign in Gujarat in favour of Narendra Modi, he suffered a loss of Rs 6 crore. But he did not bother about this because we both are in politics for a mission, for the service of people. He was ready to leave everything," Kaur told The Indian Express.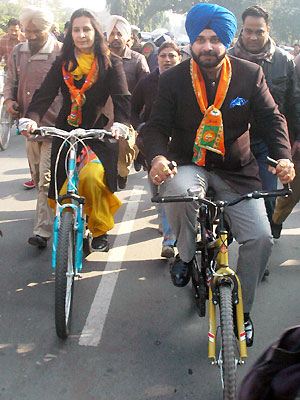 She added: "But his efforts were not recognised and he was sidelined. It is very disheartening. Now, after staying away from politics, in three months alone, he has contracts worth Rs 10 crore."
Claiming that it was unfortunate the way a three-time MP had been treated, Kaur said: "Among the 43 seats in northern states in the 2009 polls, the only BJP MP who emerged victorious was Sidhu.... I will complete my tenure as MLA unless asked by the party to step down. I will not let people down who elected me. After I complete my tenure, I will take a call on my future course of action."
Asked why Sidhu was inaccessible, Kaur said he was busy in talk shows and even she could not get through to him.
Please read our

terms of use

before posting comments
TERMS OF USE: The views expressed in comments published on
indianexpress.com
are those of the comment writer's alone. They do not represent the views or opinions of The Indian Express Group or its staff. Comments are automatically posted live; however,
indianexpress.com
reserves the right to take it down at any time. We also reserve the right not to publish comments that are abusive, obscene, inflammatory, derogatory or defamatory.