New Cadbury girl Nimrat Kaur is making waves in Bollywood
Debesh Banerjee
,
Debesh Banerjee
: Fri Jul 19 2013, 10:50 hrs



Nimrat Kuar, Irrfan Khan at Cannes. (Reuters)
She seductively stares at you from the driver's seat. Without uttering a word, she licks the chocolate off her fingers convincing you to try some.
Actor Nimrat Kaur's good looks have contributed in the success of the latest Cadbury Dairy Milk-Silk commercial.
"I was actually asked to tone down the licking and looks in the ad," says Nimrat Kaur with a chuckle, who is slowly becoming someone to look out for in Bollywood.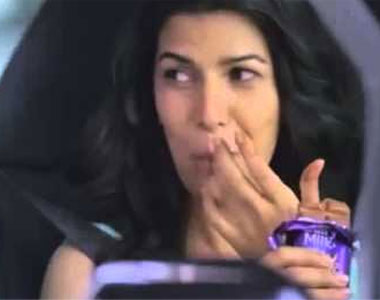 After playing the female lead in the Irrfan Khan and Nawazuddin Siddiqui-starrer The Lunchbox, she was praised by critics for her performance.
Filmmaker Karan Johar tweeted about the film, "Nimrat Kaur is the soul of LUNCHBOX...projecting marital angst...urban depression and longing for love like a legend actor."
Nimrat Kaur also received a terrific introduction at Semaine De La Critique (The International Critics Week) at Cannes this May.
"I am flattered by these reactions. I was introduced as the modern day Charulata, Sharmila Tagore and Madhubala," says the 31-year old, tucking into a chicken sandwich at a bistro in Delhi's Hauz Khas Village.
This was her second consecutive outing at Cannes, the earlier one being Vasan Bala's Peddlers (2012).
In The Lunchbox, her first major role, Nimrat Kaur portrays the role of a doting housewife (Ila) who is trying to steal her husband's attention by packing tasty meals for lunch. One day his tiffin mistakenly gets delivered to someone else. Realising the error, she packs in an apology note in the lunchbox next day and pours out her frustrations as a housewife to the perfect stranger.
Nimrat Kaur admits it was the script that excited her. "I did not know Nawaz and Irrfan would be in the film. After reading the script I wanted to be in the film, no matter what," she says.
... contd.
Please read our

terms of use

before posting comments
TERMS OF USE: The views expressed in comments published on
indianexpress.com
are those of the comment writer's alone. They do not represent the views or opinions of The Indian Express Group or its staff. Comments are automatically posted live; however,
indianexpress.com
reserves the right to take it down at any time. We also reserve the right not to publish comments that are abusive, obscene, inflammatory, derogatory or defamatory.