Rafael Nadal in 'nowhere' land
AdityaIyer
,
AdityaIyer
: Anantapur, Sun Sep 29 2013, 17:38 hrs



Ever since Rafael Nadal arrived in Anantapur three years ago to inaugurate his foundationís first project on 17th October, 2010; a tennis school for the underprivileged, hundreds of children arrive twice a day, daily, to learn the nuances of the sport, free of cost (IE Photos Kashif Masood)
Shards of daylight stream through the sparse flora of Anantapuram, the largest of 23 districts in Andhra Pradesh, well past supper time. But the villagers of Raptadu, an unremarkable hamlet that skirts the district's principal town of Anantapur, prepare for darkness earlier. Far earlier.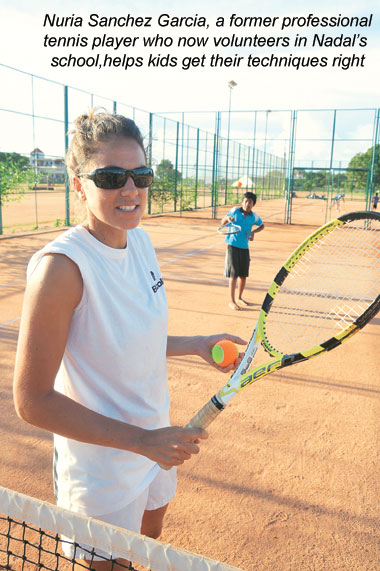 By about late afternoon, beedi shop vendors and tea stall owners down their shutters, turning away the thirsty. At about the same time, perfumed lovers slink away behind the deserted government school yard, clasping hands and giggling. Their fidgeting never fails to draw a smile from the heavily tanned Nuria Sanchez Garcia.
Perched atop her blue bicycle, Nuria, a 25-year old from Salamanca, Spain, pedals down hard on the red mud path. She was once a professional tennis player, at one point even ranked 450th in the world. At 21, though, she vowed to never touch a tennis racquet again. But today, like every other day of her stay in India, she is about to break that promise.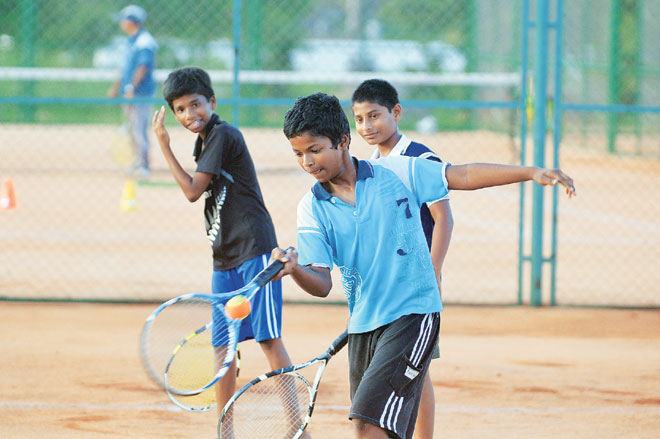 "Ela vunnaru," Nuria says in Telugu, greeting familiar faces on the road with a wave from her bike. Soon though, she will be received in a familiar language. "Como estas," the local kids will ask in Spanish, flocking around her as she begins her routine stretches. But now is not that time. There is still some way to pedal before she reaches the clay courts. Time enough to think of her past life, one left behind like the trail of her cycle on the dusty road.
She thinks of how she always wanted to be a tennis star, picking up her first racquet at the age of four. She thinks of how she enrolled at the academy in Barcelona when she was seven, and how she met her batch-mates turned best friends, Carla Suarez Navarro and Nicolas Almagro, now ranked 14th and 15th in the world.
... contd.
Please read our

terms of use

before posting comments
TERMS OF USE: The views expressed in comments published on
indianexpress.com
are those of the comment writer's alone. They do not represent the views or opinions of The Indian Express Group or its staff. Comments are automatically posted live; however,
indianexpress.com
reserves the right to take it down at any time. We also reserve the right not to publish comments that are abusive, obscene, inflammatory, derogatory or defamatory.