Rahul tears ordinance and the PM
Congress sources said that the cabinet would meet after the PM returns next week, and withdraw the ordinance.
In a major embarrassment for Prime Minister Manmohan Singh and his cabinet colleagues, Congress vice-president Rahul Gandhi Friday chose to publicly castigate the UPA government for issuing an ordinance to negate the Supreme Court order on disqualifying convicted MPs and MLAs, terming it as "complete nonsense" that should be "torn and thrown out".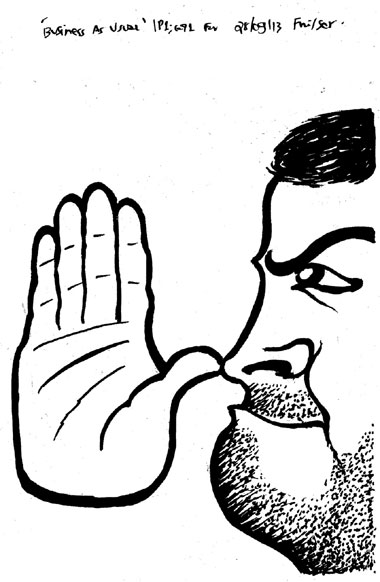 The rebuff that shocked the government and the party came less than 24 hours after President Pranab Mukherjee had summoned senior cabinet ministers for clarifications on the ordinance, putting a question mark on its fate.
Rahul's outburst, broadcast live by TV news channels, not only seriously undermined the position of the Prime Minister hours before he was due to meet US President Barack Obama in Washington, but also sealed the fate of the controversial emergency law.
Congress sources said that the cabinet would meet after the PM returns next week, and withdraw the ordinance, a move it was believed to be considering after the ministers met Mukherjee.
Rahul's move, Congress strategists said, may help him distance himself from the UPA government's perceived omissions and commissions and go to the electorate with a clean image. But in the process, it delivered a blow to the image of the government as also that of Congress president Sonia Gandhi, who was a part of the Congress core group meeting last Saturday which cleared the ordinance proposal.
On Friday, Rahul's intervention was as dramatic as it was bewildering.
He made an impromptu appearance at a press conference Congress communications department chairman Ajay Maken was addressing at the Press Club of India — and was justifying the ordinance — and launched a short but scathing attack against the ordinance.
Rahul said that before arriving at the conference, he had spoken to Maken who gave him the political line about the ordinance that "everybody will give you, the Congress will give you, the BJP will give you".
... contd.
Please read our

terms of use

before posting comments
TERMS OF USE: The views expressed in comments published on
indianexpress.com
are those of the comment writer's alone. They do not represent the views or opinions of The Indian Express Group or its staff. Comments are automatically posted live; however,
indianexpress.com
reserves the right to take it down at any time. We also reserve the right not to publish comments that are abusive, obscene, inflammatory, derogatory or defamatory.