Railway budget set to ditch populism for fiscal health
Rajat Arora
,
Rajat Arora
: New Delhi, Sat Feb 23 2013, 14:39 hrs



For the general public, the railway budget is more about fare revisions, new trains and, of late, announcement about bullet trains, but for the man in charge, railway minister Pawan Bansal, the task is cut out. He has already indicated that helping the troubled national transporter to win its spurs by sprucing up its finances is his priority, not populism.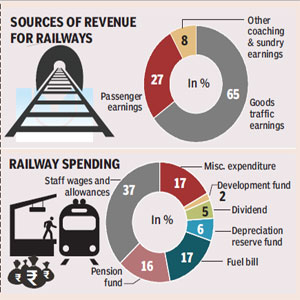 Not too long ago, almost the same time last year, Indian Railways was on the cusp of change with Trinamool Congress MP Dinesh Trivedi, the then rail minister, making all the right noises to rescue the organisation. Alas, Trivedi's reformist budget cost him his job, thanks to his adamant party chief Mamata Banerjee, whose budgets earlier were marked for absence of much-needed tariff hikes and sundry doles being given out.
Trivedi projected an operating ratio of 84% for IR, a total revenue of R1.35 lakh, the highest ever plan outlay of R60,100 crore and investments from private sector in key rail infra projects. That was not to be as his successor Mukul Roy, at the bidding of Banerjee, chose the populist path.
No wonder, the railways is still stuck in financial turbulence; even struggling to meet its operating expenses.
Bansal till now has played with a straight bat by increasing the passenger fares by 21% in January. But with increased fuel bill, due to hike in prices of bulk diesel, the extra revenue railways was expecting from fare hike has been set off by the increased fuel bill burden.
IR's fuel bill has increased to an estimated R23,000 crore a year in 2012-13 from R19,700 crore last year.
IR is all set to miss its revenue target by 10% (R15,000 crore). The total goods earnings for the 10 months is R70,067 crore. Railways in its last budget had set a target of R89,339 crore from freight earnings for the current fiscal, which is far from being met. The total passenger earnings for the first 10 months of this fiscal have been R25,924 crore, whereas the target for the current fiscal is R36,000 crore.
... contd.
Please read our

terms of use

before posting comments
TERMS OF USE: The views expressed in comments published on
indianexpress.com
are those of the comment writer's alone. They do not represent the views or opinions of The Indian Express Group or its staff. Comments are automatically posted live; however,
indianexpress.com
reserves the right to take it down at any time. We also reserve the right not to publish comments that are abusive, obscene, inflammatory, derogatory or defamatory.