Ramleela 2013: Hanuman joins the crowd to wait for Dream Girl Hema Malini
D K RITURAJ
: New Delhi, Sun Oct 13 2013, 10:47 hrs



Celebrities like Hema Malini, Akshay Kumar, Deepika Padukone have become crowd pullers for Ramleela this year. (IE photo: Amit Mehra)
Ravana and his ministers are on stage determined to set Hanuman's tail on fire. The cue for the fire is yet to come. They tie a white cloth to Hanuman's tail and chase him around the stage. After a few rounds, they give up the chase and retire to the green room. An emcee appears on stage to announce to the 500-plus audience "Be patient. Dream Girl Hema Malini will be with us shortly." After he leaves, Hanuman returns to skip to the tunes of "Pawan putra Hanuman". Thirty minutes later, the skip becomes a bored walk as Hanuman, with tail in hand, joins the crowd to wait for the Dream Girl.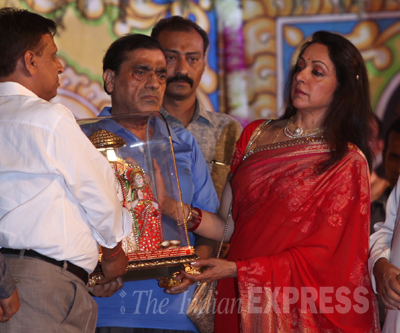 At Red Fort, a Ramleela cast from Moradabad is enacting the chapter of Hanuman's first visit to Lanka. The day's episode is to end with Hanuman setting fire to a cardboard Lanka put up a safe distance from the stage. But Hanuman seems to know who the true star of the show is. It is only when Hema Malini makes an appearance on the stage that Hanuman sets Lanka on fire. The emcee attributes the fire and the consequent fireworks to the presence of Hema Malini.
"If we hadn't invited her, how do you think the audience would have sat from 5 pm till 10 pm?" Sukhbir Agarwal, head of the Luv Kush Ramleela Committee, explaining why celebrities have to be invited to the show.
The idea, he said, struck him when he invited the cast of Ramanand Sagar's tele-serial "Ramayana". "It was a packed audience then... and ever since we have been inviting celebrities,"Agarwal said.
Across the city, the entrance to Ramleelas is adorned with posters announcing the presence of film and television stars, including Deepika Padukone, Akshay Kumar, Ranveer Singh, Rati Agnihotri, Shailesh Lodha and Ahsan Qureshi this year.
... contd.
Please read our

terms of use

before posting comments
TERMS OF USE: The views expressed in comments published on
indianexpress.com
are those of the comment writer's alone. They do not represent the views or opinions of The Indian Express Group or its staff. Comments are automatically posted live; however,
indianexpress.com
reserves the right to take it down at any time. We also reserve the right not to publish comments that are abusive, obscene, inflammatory, derogatory or defamatory.