Review Soen Transit: This wireless speaker gives music as you like it
Nandagopal Rajan
,
Nandagopal Rajan
: New Delhi, Tue Dec 24 2013, 11:42 hrs



When was the last you saw someone buy a music system?
When was the last you saw someone buy a music system? Tough question, right? Well, the popularity of mobile phones has been at the cost of many devices, among them music players and music systems, which used to be a must-have gadget in all homes. Their large control units and speakers are being replaced in many homes by compact, event tiny, speaker systems and docks that play music directly from a smartphone.
Soen is a relatively unknown name in India. But this California-based company boasts of a great pedigree as it has been founded by designers, engineers and craftsmen who have worked for the best audio firms in the world. The company has brought out a compact Bluetooth speaker for mobile devices that it light and small enough to go anywhere the phone goes. But it is not that easy for small speakers to have the kind of audio output that will keep all listeners interested, especially the choosy kind like me. That is why we had to test the Soen Transit, which has just been announced in India.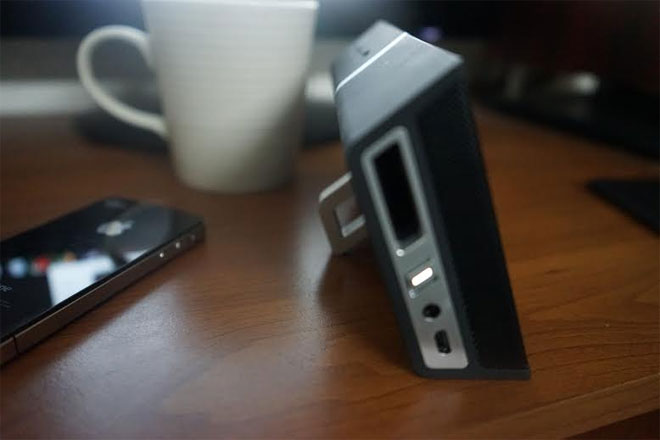 Design
As I said, the Transit is compact. In fact, with its magnetic leather cover on, it will remind you of a small jewellery box or a pipe case. The leather cover latches on to the device and keeps the grille and side grooves dust-free. Now, that is a big plus in a country like India where dust does its bit to make life hell for the best of speakers. I would have liked the device to shut every time I kept the cover on it, but life is seldom that simple. For on/off, there is a button on the side with an LED indicator. This will turn blue, along with a subtle beeping sound to show that the device is ready to pair with a phone or tablet. The pairing is swift and the LED will turn white to show its ready to play.
... contd.
Please read our

terms of use

before posting comments
TERMS OF USE: The views expressed in comments published on
indianexpress.com
are those of the comment writer's alone. They do not represent the views or opinions of The Indian Express Group or its staff. Comments are automatically posted live; however,
indianexpress.com
reserves the right to take it down at any time. We also reserve the right not to publish comments that are abusive, obscene, inflammatory, derogatory or defamatory.