Smaller cities key to AirAsia's aggressive flight plan for India
Armed with expertise and undaunted by competition, Malaysia's AirAsia is gearing up to take its low-fare warfare to India's smaller cities and towns. It promises to be a tough fight: SpiceJet already has a strong regional network with its Bombardier Q400 planes, while both IndiGo and Jet Airways have aggressive plans for tier-II and tier-III city routes. However, Tony Fernandes, chief executive of the Malaysian budget carrier, is not worried.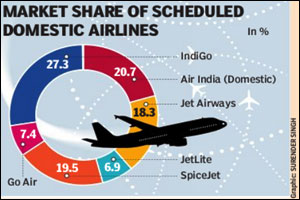 "I have faced competition throughout my career," Fernandes said in a conference call replying to queries about the competition. "When we started off 11 years ago, AirAsia had two planes while Malaysia Airlines had 105; today we have a fleet of 118 and are one of the largest airline s in the market."
"Also, I do believe that there is space for others in this market," he added. "All the aircraft in India don't even add up to the number of planes in Malaysia and India has five times more population. India is a huge market but the aviation sector needs a change in thinking."
History shows Fernandes' AirAsia takes competition head-on and ends up on top.
In 2001, AirAsia had a domestic market share of 9.8% in Malaysia and by 2011, it had climbed to become the largest carrier in the country with 58%. On international routes, it had a share of 0.9% in 2001, which rose to 39% in 2011.
Key to his battle is AirAsia's low-cost structure which has enabled it to offer some of the lowest fares in the Asean region. The airline's cost for providing each seat or cost per available seat per kilometer or CASK was the lowest globally at $4.1 in 2011. Indian competitor SpiceJet's CASK was $4.7 while Jet Airways' CASK was even higher at $7.9.
The low-cost strategy is set to continue in India as well. "Price will be our number one differentiator," said Fernandes. "We will avoid certain airports which are most costly. We have developed a low-cost structure and this will help us offer low fares."
... contd.
Please read our

terms of use

before posting comments
TERMS OF USE: The views expressed in comments published on
indianexpress.com
are those of the comment writer's alone. They do not represent the views or opinions of The Indian Express Group or its staff. Comments are automatically posted live; however,
indianexpress.com
reserves the right to take it down at any time. We also reserve the right not to publish comments that are abusive, obscene, inflammatory, derogatory or defamatory.