Harassed by motorist television actress Alefia Kapadia takes to Facebook, posts pictures
Divya Goyal
,
Divya Goyal
: New Delhi, Wed Dec 25 2013, 12:27 hrs



'Pyaar Ka Dard Hai' actress Alefia Kapadia took to Facebook to narrate the incident.
Television actress Alefia Kapadia was harassed by a motorist on a busy road in Mumbai's Dharavi locality on her way home on December 21. She was accompanied by her four-year-old child and a female friend at the time of the incident. The actress who is known for her negative role in television drama series 'Pyaar Ka Dard Hai', took to Facebook to narrate the incident.
"He was driving next to my car making lewd comments, inappropriate remarks and eve-teasing my female friend and me. He kept on doing it whiIst I tried to evade and drive away from him, but in vain. He didn't even care that there was a little toddler with us in the car who got really scared of his stalking. As he went on for a while and I had nowhere to escape in the traffic, I clicked a picture of him and his car to warn him that I will complain against him," she wrote in a long Facebook post.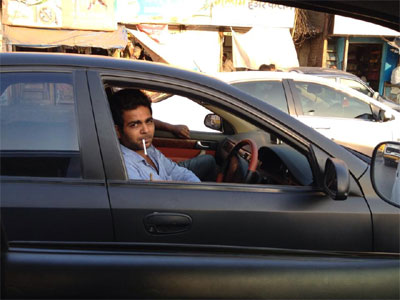 "He then got his car real close to mine in vengeance and scratched it right from head to tail. Shocked and raged I stopped my car. He then stopped his car real close to mine, blocking my path. He got out of his car and tried to open my car door and started abusing and yelling. All three of us in the car were really scared. I had thankfully locked the doors and managed to drive out of whatever little space I cud get, before the situation got nastier. I called the Mumbai Police Control room to get help, but before any help could arrive , this monster had escaped."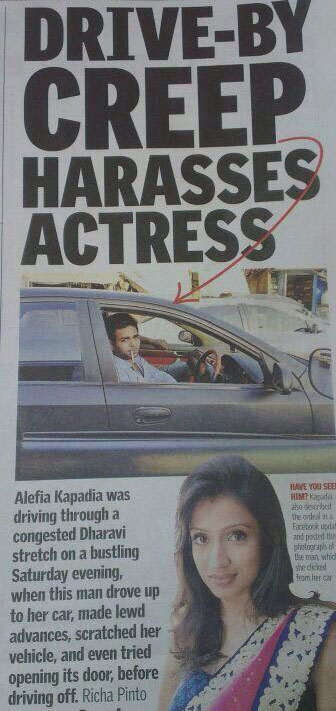 The actress then filed an FIR against the motorist and posted on Facebook: "After facing harassment on the roads of Mumbai on Saturday the 21st of Dec, I have lodged an FIR on 22nd dec 2013 under section 509, 279 and 427, against the criminal in the Shahunagar Police Station."
... contd.
Please read our

terms of use

before posting comments
TERMS OF USE: The views expressed in comments published on
indianexpress.com
are those of the comment writer's alone. They do not represent the views or opinions of The Indian Express Group or its staff. Comments are automatically posted live; however,
indianexpress.com
reserves the right to take it down at any time. We also reserve the right not to publish comments that are abusive, obscene, inflammatory, derogatory or defamatory.