Express exclusive: Sachin Tendulkar's current form suggests a bounce back may not be possible
Surjit S Bhalla And Ankur Choudhary
,
Surjit S Bhalla And Ankur Choudhary
: Wed Sep 18 2013, 11:07 hrs



Say goodbye, those days are gone, And we can't, keep holding on These Hard Times, Matchbox 20.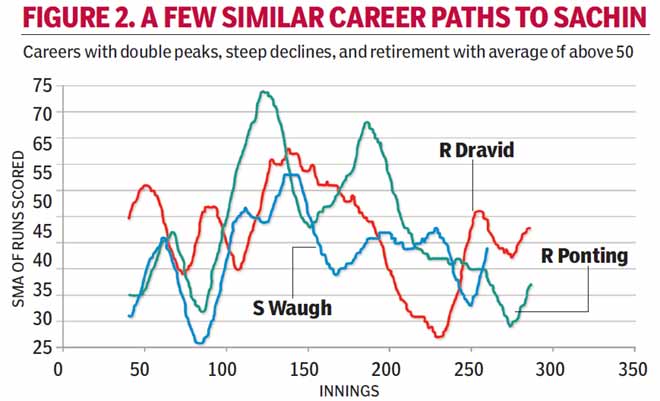 Tendulkar has turned 40. Yet another landmark for him and hence yet another occasion to discuss his retirement. That Tendulkar should hang his boots is, according to some, no longer a question mark. But should he please the skeptic critics, or should he play on? In a recent candid 'retirement' interview (March 25, 2012) this is what the possessor of most records as a batsman, the Master Blaster, had to say: "The day I don't have it, I will think about retirement" (emphasis added); he reiterated the fact that he considered it "selfish to retire when on the top, because when you are on the top you should serve the country instead of retiring"; and on him being a trifle too old to play at the highest level, "Yes, it's a different body, but there's a big difference between the mind of a 17- year-old and that of a 37-year-old (sic). The way I see it the glass is half full." (emphasis added).
Given that the decision is his, when should Tendulkar retire in his own interest and/or in Indian team's interests? The entire decision making exercise is compounded by the vagaries of human nature. We, especially sportsmen, are reluctant to accept aging, and to leave center stage. Actually, forget sportsmen, politicians and business leaders are the same. While we should retire at our peak or slightly off it, many rarely do – for the simple reason that it is impossible to ex-ante know one's peak! Just ask the PM, Manmohan Singh, who should have retired soon after the 2009 election. Thankfully, in cricket, there are the selectors who do the dirty on the individual, but the clean for the country and the sport, by quietly whispering to players that it is time to go. In Tendulkar's case, partly or almost wholly upon his own insistence and because of his stature, the decision to retire is entirely his. Should the selectors let that happen or should they ask Tendulkar to retire from Test cricket by dropping him?
... contd.
Please read our

terms of use

before posting comments
TERMS OF USE: The views expressed in comments published on
indianexpress.com
are those of the comment writer's alone. They do not represent the views or opinions of The Indian Express Group or its staff. Comments are automatically posted live; however,
indianexpress.com
reserves the right to take it down at any time. We also reserve the right not to publish comments that are abusive, obscene, inflammatory, derogatory or defamatory.