Vidya Balan goes shopping in New York
Vidya Balan At India Day Parade, Manhattan. (Twitter)
Bollywood actress Vidya Balan, who is here to attend the India Day Parade to commemorate Indian Independence Day celebrations organized by Federation of Indian Associations (FIA), went on a shopping spree at the famous Fifth Avenue outlets.
The 35-year-old actress said though she is a great fan of electronic gadgets, she prefers to shop for memories in Big Apple.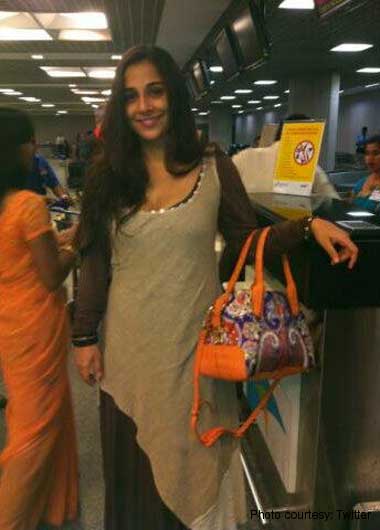 "New York is such a vibrant city with so many attractions and places to see and one never gets bored seeing them again and again. There is a saying that even if one were to watch sea shore and elephants daily, they never get bored. I want to add New York too," she said at a press conference organized by the FIA.
Vidya will be walking the India Day Parade in Madison Avenue in Manhattan on August 18 along with Anna Hazare, South Indian actor Sarath Kumar and his wife Radika Sarath Kumar and Prime Minister of Antigua and Barbuda Winston Baldwin Spencer.
Vidya addressed the media in the bits and pieces of five languages - Tamil, Malyalam, Hindi, Bengali and Punjabi – to enthrall the audience and said this act represents the unity and diversity of India.
"I am from Palakkad and was exposed to different languages like Tamil and Malayalam and my stay in Mumbai helped me learn Hindi and Marathi," she said.
The Kahaani star feels Indian film industry is undergoing a great metamorphosis and it's a welcome change due to the arrival of passionate youngsters.
"This is the kind of variety that we have been looking for and it¿s long over due. Creative people have found means to express themselves through various platforms and without budgets, without the backing of famous and without celebrated stars and schedules.
"Creativity is at full play now and there are no barriers to any talented person to showcase without any limitations. More than breaking the mould these youngsters have brought in freshness and variety with their magical touch in content and treatment ensuring that thee is no dearth of entertainment. New comers will play a leading role in the future of Indian cinema," she said.
Please read our

terms of use

before posting comments
TERMS OF USE: The views expressed in comments published on
indianexpress.com
are those of the comment writer's alone. They do not represent the views or opinions of The Indian Express Group or its staff. Comments are automatically posted live; however,
indianexpress.com
reserves the right to take it down at any time. We also reserve the right not to publish comments that are abusive, obscene, inflammatory, derogatory or defamatory.