Watch: When Arjun Kapoor forced Ranveer Singh to shave off his moustache and beard
Divya Goyal
: New Delhi, Tue Dec 03 2013, 15:19 hrs



Ranveer Singh is seen shrieking and shouting as Arjun Kapoor shave off his handlebar moustache. (Still)
Bollywood actor Ranveer Singh, who is on a roll with the success of 'Ram-Leela' was recently spotted in a clean shaven look. Ranveer was spotted looking slightly uncomfortable at the completion party of 'Finding Fanny Fernandes'.
The actor who had sported a handlebar moustache and beard for 'Ram-Leela' was forced to do away with his famous handlebar moustache and beard by none other than his 'Gunday' co-star and friend Arjun Kapoor.
In a hilarious video titled 'Moochh gayi', posted by Ranveer Singh on his Twitter account, one can see how Arjun Kapoor bullied Ranveer Singh to get the new look.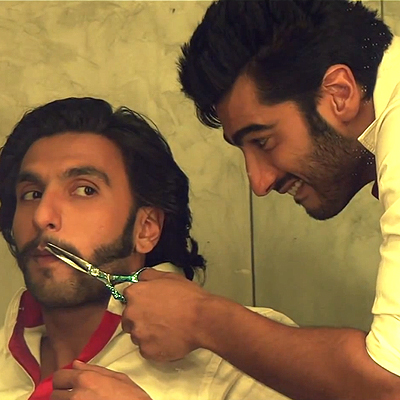 Ranveer Singh is seen shrieking and shouting as Arjun Kapoor shave off his moustache and beard.
Ranveer Singh was even nostalgic about his chopped off moustache and wanted to keep a memorabilia. However, Arjun Kapoor laughed it off by saying will he get Rs 4 crore form selling it!
Ranveer Singh, has reportedly gone clean shave for his next film 'Kill Dill'. He said "I'm still getting used to looking at myself in the mirror. But new character, new chapter in my life and a new look to go with it. So good. I think it will bring out the best in me."
Ranveer Singh has always sported a clean shaven look for his initial movies - 'Band Baaja Baraat, Ladies Vs Ricky Bahl' and 'Lootera', but his rough look had made many men in the industry follow him. Ranveer Singh also carries the same rugged look in 'Gunday'.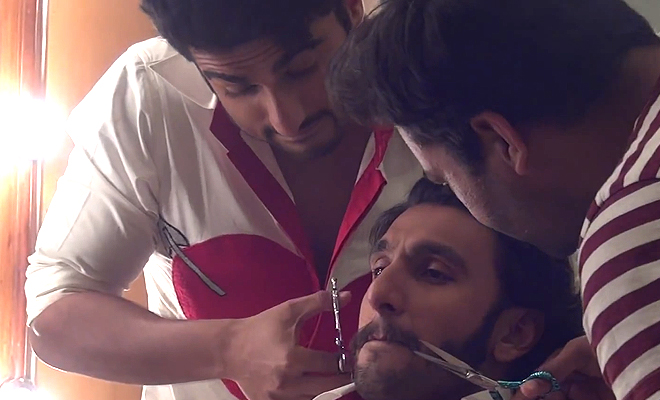 'Kill Dill' is Ranveer Singh's next venture with Yash Raj Films directed by Shaad Ali. The film also stars Ali Zafar, Parineeti Chopra and Govinda in lead roles.
Please read our

terms of use

before posting comments
TERMS OF USE: The views, opinions and comments posted are your, and are not endorsed by this website. You shall be solely responsible for the comment posted here. The website reserves the right to delete, reject, or otherwise remove any views, opinions and comments posted or part thereof. You shall ensure that the comment is not inflammatory, abusive, derogatory, defamatory &/or obscene, or contain pornographic matter and/or does not constitute hate mail, or violate privacy of any person (s) or breach confidentiality or otherwise is illegal, immoral or contrary to public policy. Nor should it contain anything infringing copyright &/or intellectual property rights of any person(s).