Where the women are
C.V. Madhukar
: Thu Jun 26 2008, 01:53 hrs



The Women's Reservation Bill that has been introduced in Parliament is being intensely debated in the parliamentary standing committee and other forums. In an effort to understand the current nature of participation of women MLAs in state assemblies across the country, PRS Legislative Research analysed the affidavits of women MLAs posted on the Election Commission website. The only exception was Jammu and Kashmir for which data was not easily available.
The first aspect we looked at was the extent to which women were elected in state assemblies across the country. Out of a total of 4,120 MLAs in 28 states and two union territories, there were a total of 280 women — under 7 per cent of all MLAs compared to about 9.5 per cent women MPs in Lok Sabha.
West Bengal has the highest percentage of women MLAs in the country (nearly 13 per cent) in a 294 member assembly. A region-wise look at the data throws up some surprises. States with no women MLAs include Arunachal Pradesh, Mizoram, Nagaland, Manipur and Puducherry. Assam leads the group of north eastern states with 10.3 per cent of its assembly being represented by women. Goa (40 assembly seats) and Tripura (60 assembly seats) have only one woman MLA each.
Among the southern states, Tamil Nadu tops the list with 9.4 per cent women MLAs followed by Andhra Pradesh with 8.8 per cent. Kerala is surprisingly behind with about 5 percent women represented in the state assembly, while the new Karnataka assembly has a measly 1.3 per cent women. Leaders among the Hindi speaking states are Haryana (12.2 per cent), Bihar (10.3 per cent), Delhi (10 per cent), and Madhya Pradesh (8.3 per cent).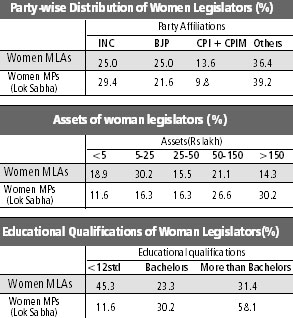 Congress and BJP account for about 25 per cent women MLAs each. CPI/ CPM account for about 14 per cent while the remaining 36 per cent belong to other parties. About 58 per cent of women MLAs fall in the age-group of 40-60 years with some regional variations. About 15 per cent of all women MLAs are 'widowed.'
... contd.
Please read our

terms of use

before posting comments
TERMS OF USE: The views expressed in comments published on
indianexpress.com
are those of the comment writer's alone. They do not represent the views or opinions of The Indian Express Group or its staff. Comments are automatically posted live; however,
indianexpress.com
reserves the right to take it down at any time. We also reserve the right not to publish comments that are abusive, obscene, inflammatory, derogatory or defamatory.