Why Punjab has suffered long, steady decline
Swaminathan S Anklesaria Aiyar
,
Swaminathan S Anklesaria Aiyar
: Thu Nov 08 2012, 04:39 hrs



Since the 1980s, the state has lost its economic leadership. Since the 1990s, its GDP growth has been lower than the national average. As measured by the Economic Freedom Index, its rank has slipped badly from 6th position in 2005 to 12th position in 2011
Punjab has historically been one of the fastest-growing and richest states of India, with one of the lowest poverty rates. Punjab's farmers are the best in India, boasting the highest rice and wheat yields. The state was at the very heart of the green revolution which, starting in the mid-1960s, ended Indian starvation and heavy dependence on food aid. Punjab was among the first states to provide weather-proof roads and electricity to all villages, these being important facilitators of the green revolution. Electricity was required to provide irrigation through tubewells, and good roads were essential to move inputs to farms and produce out to markets. Punjab has always boasted a tradition of entrepreneurship, and willingness to travel to other states and countries in search of work. This has produced a large return stream of cash remittances, estimated to be the second largest of any state after Kerala.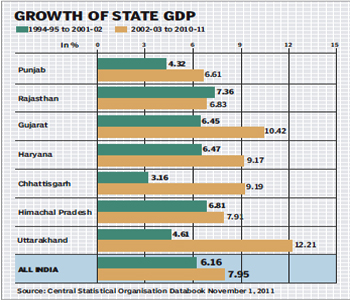 However, since the 1980s, the state has lost its economic leadership among states, and steadily slipped behind other states. Since the 1990s, (see graph), Punjab's GDP growth has been lower than the national average. According to government data (CSO estimates November, 2011), the state's GDP growth in 1994-2002 was 4.32% per year, against the national average of 6.16%; and in the period 2002-11 Punjab's rate was 6.61% against the national 7.95%. By global standards, these were reasonable rates of growth. But relative to other Indian states, Punjab kept slipping.
A major weakness has been a high fiscal deficit, which is the highest among all major states—budgeted at 3.4% of GDP for 2011-12. The high fiscal deficit arises mainly out of huge unwarranted subsidies, the chief culprit being free power to farmers.
... contd.
Please read our

terms of use

before posting comments
TERMS OF USE: The views expressed in comments published on
indianexpress.com
are those of the comment writer's alone. They do not represent the views or opinions of The Indian Express Group or its staff. Comments are automatically posted live; however,
indianexpress.com
reserves the right to take it down at any time. We also reserve the right not to publish comments that are abusive, obscene, inflammatory, derogatory or defamatory.